The Science of Landscape Change...
The Eastern Geographic Science Center (EGSC) informs decision-makers of the impact of landscape change.
EGSC scientists develop and apply the data, process understanding and Web-based tools necessary to holistically evaluate and forecast impacts that land use and land cover changes have had and could have on natural resources and environmental health and well-being.
---
New Journal Articles
Features

Science at a Glance

Mapping Chesapeake's Future From Today's Land Use
The Chesapeake Bay is showing signs of increased resiliency just as efforts to restore the nation's largest estuary enter a critical phase. This fall the bay states will set permanent "pollution diets" or total maximum daily loads (TMDLs) for bay tributaries. The idea is that once every stream's pollution burden falls to or below its set limit and stays there, the result will be a sustainable Chesapeake Bay. To make sure the TMDLs account for population growth and land use changes, USGS research geographer Peter Claggett and his colleagues used existing land cover maps and other data to develop specific information about how the watershed's land is actually being used, at the scale of 1 meter by 1 meter. The land use model now being finalized projects what types of development are likely to occur in specific areas over the coming decades. The team's work provides local estimates of pollution loads to the Bay, how those loads have changed over time, and how they are likely to change in the future. The information will help state and local officials understand their options for managing bay pollutants over the long term. More...

---

Cleaner Air, Cleaner Bay
EGSC Geographers John Wolf and Andy Fitch played key roles in the development of a new "Story Map" highlighting the environmental success story of how the Chesapeake Bay has benefited from regulations put in place as a result of the Clean Air Act. Wolf and Fitch collaborated with Environmental Systems Research Institute application developers to create the web site based on input from the U.S. Environmental Protection Agency subject matter experts. The project was a collaborative effort among USGS – Eastern Geographic Science Center geographers and EPA subject matter experts at the Chesapeake Bay Program, the U.S. Environmental Protection Agency Region 3 Air Protection Division, and others. Visit this interesting story map.

---

Best Management Practices
What are stormwater Best Management Practices? Can Best Management Practices help protect streams in developed landscapes? Why does urban stormwater cause problems in streams and the Chesapeake Bay?

Learn more about how we can treat stormwater runoff to promote ecosystem health in our local streams. More...
Research Locations

With a focus east of the Mississippi River, our research staff applies expertise in geography, remote sensing, geology, biology, and computer science to better understand our land.

Chesapeake Bay Watershed
Clarksburg, MD
South Florida
Pennsylvania
Virginia


Educational
Video: Bay 101 Population Growth
Our daily lives can dramatically impact the environment when we consume natural resources, alter the landscape to fit our needs and pollute our land, air and water. As the population in the Chesapeake Bay region continues to grow, so does our combined impact on the the Bay, its rivers and streams and the surrounding lands. Geographer Peter Claggett with the U.S. Geological Survey (USGS) discusses how he uses satellite imagery to study the effects of population growth on the local landscape and what we can do to lessen the impact of a growing population on the region's natural resources. More....


---
Conveying Phenology and Other Scientific Concepts to Non-Scientists
The change of seasons affects everyone and most have some personal sense of the effect that changes in temperature and rainfall have on the flowers, grasses and trees they see every day. Each spring and fall over the last several years the EGSC has been approached by members of the press and public regarding its research on climate change impacts on landscape phenology. Based on this experience, the EGSC created a series of web pages to more effectively explain complex landscape phenology concepts in simple, yet exciting ways. More....


---
Live view of the Shenandoah!!
USGS Phenology WebCam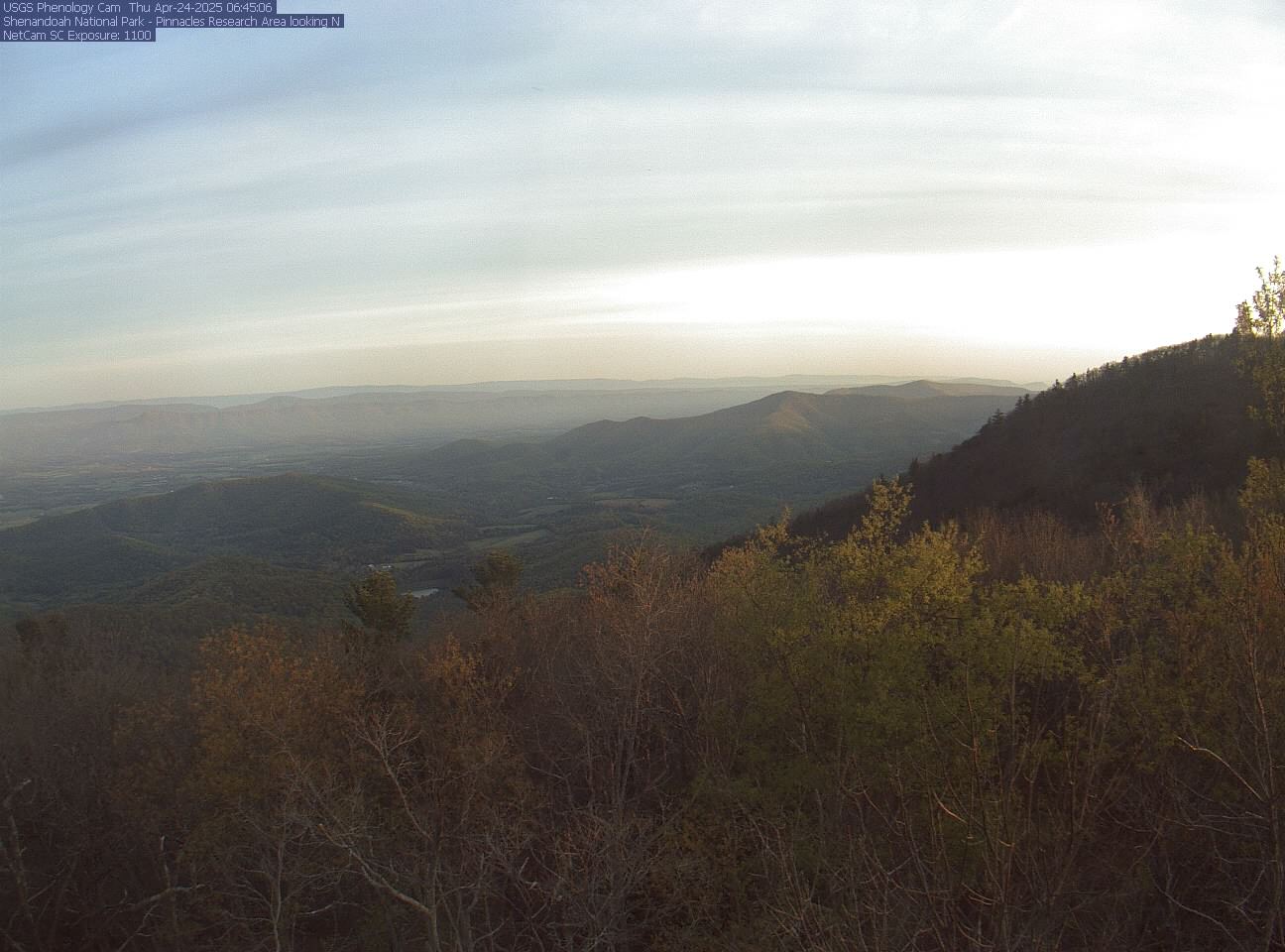 This webcam is updated every 30 minutes 10am to 4:30pm.

Larger View...
What is Phenology?